Underwood Uncovered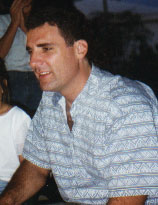 37 years...
of effort, abuse, and neglect made the man you see here. The one woman in my life, a bonafide high school sweetheart, provides all the love, encouragement, and gravity that I need. Two little boys keep me from growing old - or at least from acting old.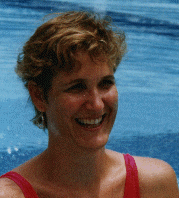 Stops on The Tour
Born and raised in the Old Pueblo of Tucson, Arizona. More-recent wandering includes New Jersey, Miami, Chicago, Mexico (4 years) and currently, Singapore. Some cast me as a jack-of-all-trades; Italian cook, surgical technician, guitar store manager number among earlier exploits. Others (you know who you are!)say I'm a high-paid drifter. Right now, I'm drifting through a international marketing career; waging battle with the relentless pull of the do-my-own-thing dream.
Guitars and Chickens
My college career at Arizona (1997 NCAA BB CHAMPS!) was notable only by it's near-record performance in changes of declared majors. A degree in Economics steered me (or chased me?) into the arms of a music store where I happily toiled for a number of years. I was then seduced by the allure of a high-flying, adventure-filled, international career and enrolled at Thunderbird. 6 weeks after graduation, I found myself traipsing through chicken houses in Bolivia! So much for the high-flying part. More like ducking from low-flying chickens. Since then, I've enjoyed adventures (in airports and hotels mostly) in about 40 countries.
Guitars, beer, and admiration
I'm a hack guitar player with cool guitars that real musicians would appreciate (deserve). My collection includes a pre-war Gibson J300, a 50's Gretsch New Yorker (my favorite) with the original Sam Ash receipt, an Anniversary Strat, and an old concert-size Epiphone Cortez that endures a beating, wrong notes, and the same old songs, without complaint. I like home improvement projects and yard work; my wife is convinced that it's the beer-drinking and frequent rests to admire my not-so-handy work that I enjoy most. I also like writing. Short stories, Web-sites, and sarcastic office memos are my favorites. Here's a sampling:
Here is a story about our family vacation to Bali.
1000 from 950
Music likes include: John Hiatt, Jerry Riopelle, Doors, Who, Eric Clapton, John Fogerty, Mark Knopfler, Eric Johnson, Allman Bros, Wilco, Why Store, Dwight Yoakam, Bonnie Raitt, Marshall Crenshaw, Lyle Lovett, Indigo Girls, R.E.M., and about 1000 other songs from 950 other musicians.
Fear and Loathing and Pecked by Ducks
Authors I read include: Tim Cahill, Hunter Thompson, Edward Abbey, Stephen King, Sam Watterson (Calvin & Hobbes), Tom Peters (read: "In Pursuit of Wow"), Raymond Carver, John Feinstein, David Halberstam
Quote-of-the-month: "It took years of effort to become the mess you see today." John Fogerty.
My credo: Not knowing what you want to do with your life can be a good thing.
Cole, Sue, Ross & Seth